Holiday recipes, from our family to yours.
The Staffworks team is a small but mighty combination of people of different cultures and holiday traditions. And one of the things that we all have in common is our love of food! We've put together a list of our favourite holiday recipes below – we invite you to take a (virtual) peek into our kitchens and maybe even try a new recipe or two! Click on the links below to be taken directly to the recipe.
Eritrean Coffee Ceremony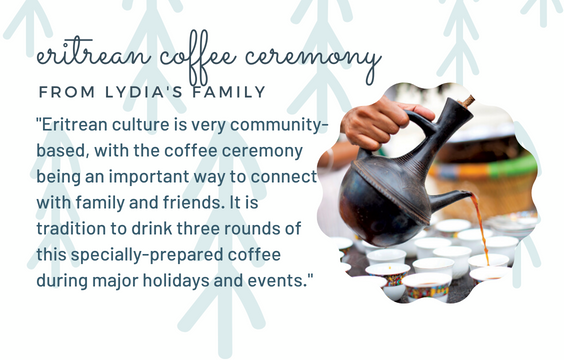 Recipe
Lydia's family has adapted this recipe for their family get-togethers. They enjoy sitting around the Christmas tree during the coffee ceremony, taking a mindful moment to talk and spend time together as a family. To learn more about the history of this ceremony, and the necessary ingredients and steps, check out this link.
Ukrainian Cabbage Rolls
Ingredients & Recipe
This cabbage roll recipe is meat-free, although it can also be enjoyed with pork. Add a dollop of sour cream onto the finished cabbage rolls for extra yum!
1 medium head cabbage
1 1/2 cups uncooked white rice
2 tablespoons butter
1 onion, chopped
1 can (46 fl. oz.) tomato juice
salt and pepper to taste
Preheat oven to 165 degrees C (325 degrees F). Grease a 2-quart casserole dish.
Steam the whole head of cabbage until it is al dente. Meanwhile, bring 3 cups of water in a saucepan to a boil. Add rice and stir. Reduce heat, cover and simmer for 20 minutes.
Melt butter in a small skillet over medium heat. Sauté onion until translucent; stir into cooked rice and season with salt and pepper to taste.
Cut the leaves off of the cabbage and but the larger leaves in half. Spoon 1 tablespoon of rice into a leaf and roll tightly. Place rolls in prepared casserole dish, stacking in layers. Pour tomato juice over the rolls, using enough just to cover.
Cover and bake in pre-heated over for two hours.
Peppercorn-crusted Beef Tenderloin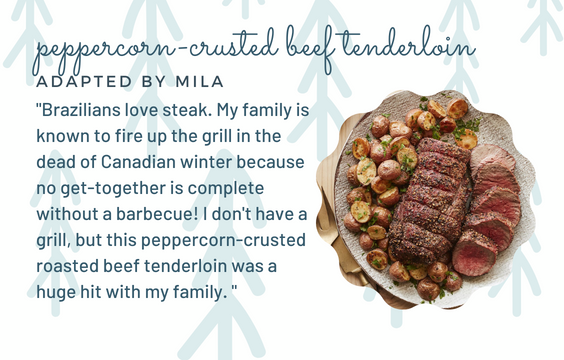 Ingredients & Recipe
For this dish, Mila adapted the following recipe by What's Gaby Cooking. Here are Mila's adaptions:
I chose not to make the chimichurri. Instead, I made a dry rub consisting of dried rosemary, dried thyme, cracked black peppercorns, and sea salt. How much seasoning you need depends on the size of your tenderloin.
Use a small knife to cut small, shallow slits in the meat, then stuff the slits with your sliced garlic. Do not make too many slits!
If your tenderloin is small and easy to handle, you might want to pan-sear it before roasting! I used sunflower oil to sear my tenderloin on all sides (about 2-4 minutes each side).
Guyanese Pepper Pot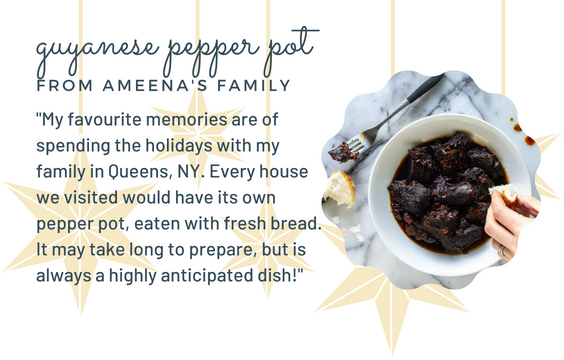 Ingredients & Recipe
The meat and seasonings used in pepper pot varies from family to family., making this a truly unique dish. Ameena's family uses oxtail, but beef, pork, or lamb can also be used. While pepper pot typically takes about three days to prepare, this adjusted recipe only takes 3 hours to cook!
Jamaican Rum Cake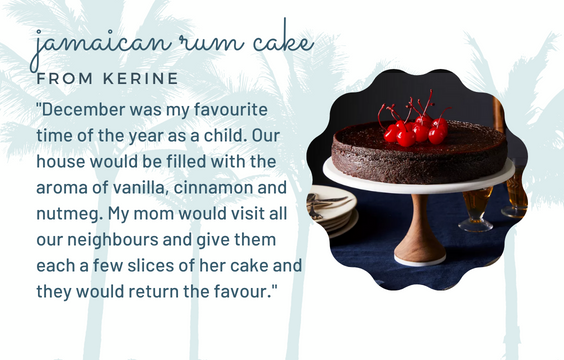 Ingredients & Recipe
Like the pepper pot above, Jamaican rum cake also varies from family to family, even between generations! Traditionally, the fruit used in the cake is soaked in red wine and rum for as long as six months, depending on the baker. Kerine's mom, aunts, and grandmother all have their own twists to their recipes, but this recipe is a good place to start if you are thinking about making your very own rum cake. Serve with a refreshing batch of Jamaican Sorrel Drink!
Sweet Noodle Kugel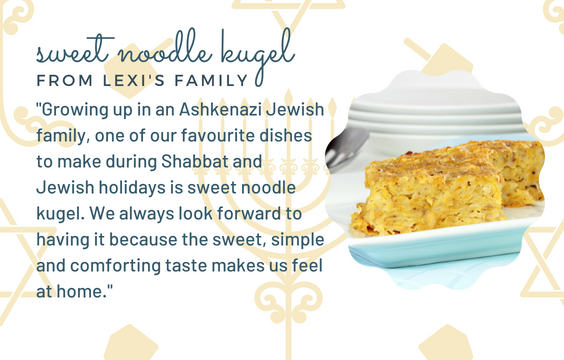 Ingredients & Recipe
1 lb. egg noodles
1/3 cup melted butter
3-4 eggs
1 qt. buttermilk
1/2 cup sugar
1/2 tsp. salt
For the topping: 3/4 cup brown sugar, 2/3 cup cornflake crumbs, 2 tbsp. butter
Cook the noodles (10 minutes), then remove to colander. Pour cold water over the noodles in a colander when draining.
Beat eggs, then add sugar, salt, and noodles. Fold in butter.
Cover and let marinate. Preheat oven to 375 degrees F. Pour noodles mixture into large casserole dish.
Bake for 1 hour.
Meanwhile, mix topping ingredients. After an hour of baking, add mixture to top of kugel.
Return baking dish to oven, and bake for another 1/2 hour.
Shortbread Cookies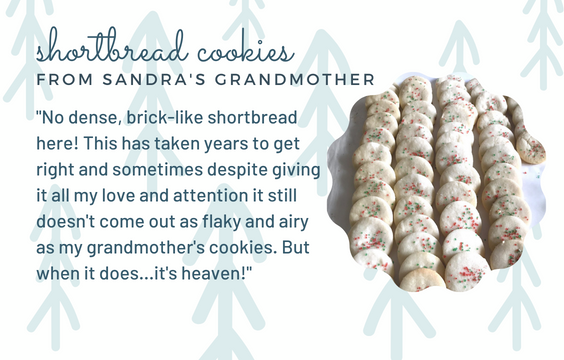 Ingredients & Recipe
1/2 lb. very soft butter
1/2 cup ultra fine sugar
2 cups of well-sifted flour
A pinch of salt
Using a standing mixer, beat ½ lb very soft butter with ½ c ultra fine sugar. Not powdered sugar but super-fine. Beat well enough that it lightens in colour and the sugar dissolves into the butter.
Mix in by hand two cups of well-sifted flour, with a pinch of salt. If you don't sift, you can tell. Use a handheld strainer if you don't have a sifter.
Roll out the dough in a few batches and cut with a cookie cutter or small, fine glass (my mother used a crystal sherry glass to get just the right round shape and size).
When you're done the first batch, gather the remains and add another 1/3 of the batter and roll again.
Repeat until you've finished with the dough, Be careful not to "manhandle" the dough as it will affect the flakiness of your cookies.
Place on baking sheet lined with parchment, and sprinkle with crystallized sugar sprinkles (optional).
Bake in a pre-heated oven to 325-330 degrees F for 12 minutes, or just long enough for the edges to get the tiniest touch of brown
Let cool and don't worry too much about storage because they won't last!
Peanut Butter Balls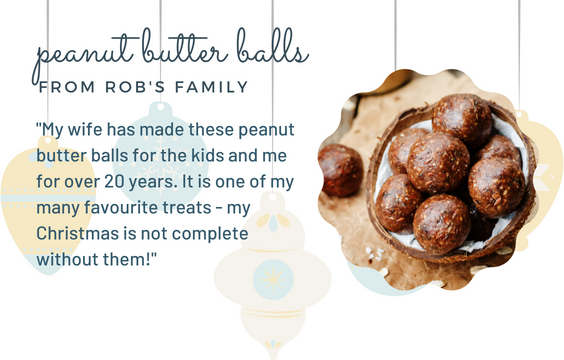 Ingredients & Recipe
2 cups each peanut butter, sweetened shredded coconut, rice crispies, and icing sugar.
1 cup semi-sweet chocolate, melted, for dipping
Combine all ingredients above, roll into balls and place on parchment/wax paper, then into the fridge to cool for 30 minutes.
Melt semi-sweet chocolate chips in a saucepan (we normally add lard to help with melting, butter works as well).
Dip balls in melted chocolate and set back on parchment paper to cool in fridge again.
Enjoy!
Posted in